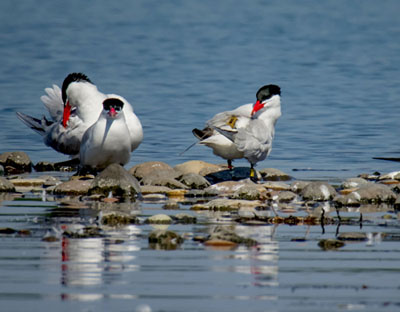 Finding lost PTTs can be a difficult and time-consuming task. In 2003, to simplify the recovery of PTTs, we introduced our Ground Track (GT™) feature, which allows a PTT to also function as a conventional radio transmitter. This feature eliminates the need to attach a separate VHF transmitter to the PTT or to hinder the animal with an additional antenna and unit, modifications that add weight/volume and can potentially interfere with the PTT's functions.
GT™ integrates a UHF pulsed tracking transmitter, that sounds much like the customary VHF, into a PTT. The GT™ transmitter shares the PTT's antenna and battery, and is available as two different options:
Seasonal GT™ – GT™ will activate during preprogrammed "windows" of time, as specified by a transmitter's seasonal duty cycle.
Mortality GT™ – GT™ will activate automatically when the transmitter sensors indicate a minimal change in activity over a specified period of time.
A specialized, temperature-based version of Mortality GT™ is available for Implantable PTTs. Upon registering temperatures below a specified level, a PTT will begin emitting a UHF signal and transmitting continuously to Argos regardless of where the PTT is in its duty cycle, allowing for swift location of deceased birds.
GT™ also transmits at two power levels, making a transmitter easier to find when you are in close proximity. An appropriate receiver, when set to the CW (Continuous Wave) mode, can easily detect the high power GT™ pulses from the PTT several miles away over average terrain using a 4-element Yagi antenna. The same receiver can be used to monitor the Argos transmissions.
We can supply a UHF Yagi antenna and recommend suitable receivers if requested.

GT™ is not available for GPS/GSM 20-70 Transmitters, Solar 5g PTTs, or Solar 2g PTTs.
Photo by Timothy Lawes
(Oregon State University and the
Oregon Cooperative Fish and Wildlife Research Unit)