This model is currently available on a limited basis.
Please contact us in advance if you are interested in ordering Solar 2g PTTs.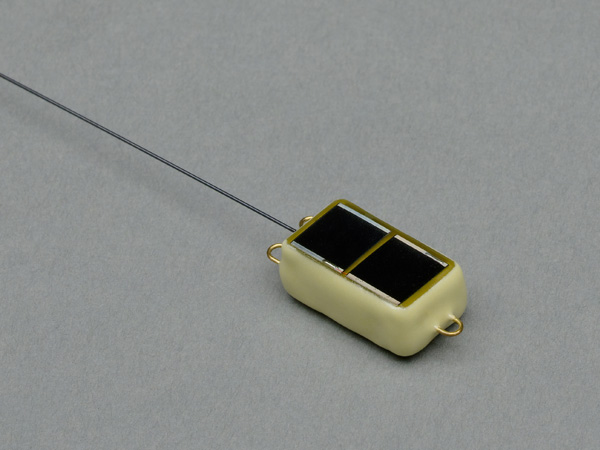 Features
Lightweight, intelligent design

Solar-powered, rechargeable battery

Microprocessor-controlled power management
Transmission via Argos-3 for improved satellite reception

Operating lifetime up to 2 years
Dimensions*
Length: 0.80 in (2.03 cm) x Width: 0.46 in (1.17 cm) x Height: 0.33 in (0.84 cm)
Antenna: 8.50 in (21.59 cm) protruding from the back edge of the transmitter

Sensors
Temperature, battery voltage

Construction
Microelectronics are encapsulated in epoxy resin to minimize weight and create a durable, long-lasting form.

Attachment options
Backpack

Color options
Standard Finish: classic green, medium brown, white

Example species
Roseate Tern, Red Knot, Spoon-billed Sandpiper, Aleutian Tern, Common Tern, Buff-breasted Sandpiper
* Dimensions may vary slightly due to the individually crafted nature of these devices. Harnessing loops not included in these dimensions.
DUTY CYCLE: Solar 2g PTTs transmit continuously, rather than operating on an ON/OFF duty cycle as do our other PTTs. During normal operation, the 2g PTT transmits in a power-saving mode in which all messages contribute to Argos-calculated locations, but only every fourth message contains sensor data. As with all of our transmitters, the 2g PTT will not be able to transmit if its battery voltage becomes too low. Normal operation will resume once the PTT is exposed to sufficient sunlight to recharge its battery.
The smallest and lightest solar-powered satellite transmitter to date, this miniature PTT is being used to study several data-deficient and at-risk species, including Spoon-billed Sandpipers and Red Knots. The addition of the Solar 2g PTT to our line of transmitters now grants researchers the potential to conduct long-term satellite tracking studies of birds weighing as little as 67 grams.