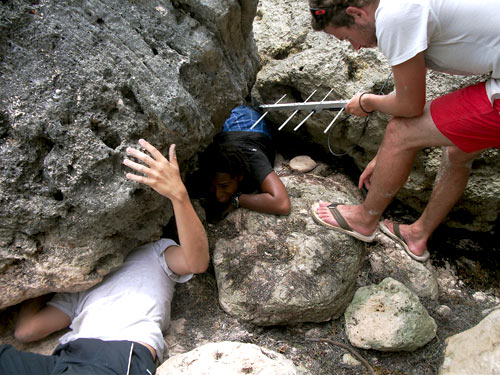 The recovery of a pop-up satellite archival tag (PSAT) is a highly coveted event in the fish tracking community, as it signifies not only the potential to redeploy a tag at a greatly reduced cost but an opportunity to recover a wealth of high-resolution data often equivalent to the many research hours, effort, and cost of an active-tracking study. As such, research teams often go to great lengths to track down PSATs that have popped off of an animal in their study; by placing bounties on their tags, traversing rocky outcrops, long stretches of beach, open ocean, or even knocking on doors in residential neighborhoods (see photos below). It's often an exhausting search that requires a great deal of luck, but it can be made easier with a directional antenna (our Yagi antenna is one such option) configured to receive Argos's UHF frequency and a handheld receiver (we can recommend appropriate market options).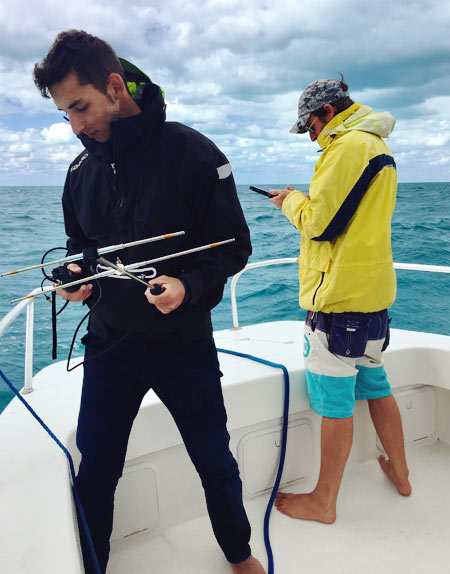 Contact us if you are interested in locating a transmitting PSAT that has washed ashore or is transmitting from a convenient location, or if you or a good samaritan has found a deployed tag. We can provide further instructions for shipping and handling of the tag. Upon receipt of the tag at our facility we can extract the data and provide information regarding the availability of your tag for refurbishment.
For further information check out the studies below that highlight the substantial contributions a recovered archival dataset can add to a fish tracking study.
Philopatry and regional connectivity of the great hammerhead shark, Sphyrna mokarran in the U.S. and Bahamas
Was my science project eaten? A novel approach to validate consumption of marine biologging instruments
Into the deep: the functionality of mesopelagic excursions by an oceanic apex predator