GPS/GSM 20-70 25g Transmitter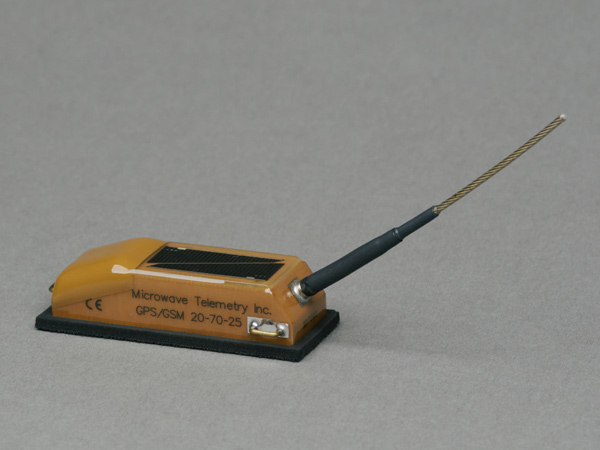 Features
Solar-powered, rechargeable battery
Microprocessor-controlled power management
Internal multi-channel micro-power GPS receiver
SBAS capable (WAAS, EGNOS, and QZSS)
GPS horizontal accuracy ±18 m

GPS vertical accuracy ±22 m

GPS resolution 0.00001 degree (~1 meter at equator)
Dynamically adjusting GPS fix rate (1-minute minimum with current software version)
Archive capacity of up to 258,000 locations
Operating lifetime up to 3 years

Dimensions*
Length: 2.54 in (6.45 cm) x Width: 0.92 in (2.34 cm) x Height: 0.67 in (1.70 cm)
Antenna: 3.35 in (8.51 cm) protruding from the back edge of the transmitter 35 degrees to the bottom face

Sensors
GPS (latitude, longitude, altitude, speed, course, HDOP, VDOP, and number of GPS satellites), temperature, battery voltage, activity
Construction
The housing is constructed from a lightweight glass-reinforced epoxy composite material with a contiguous interior metal-plated coating. The unit is hermetically sealed with a metal-to-metal solder joint providing stability during changes in temperature and humidity.

Attachment options
Backpack (with standard neoprene cushioning pad), leg band**

Color options
Standard or Matte Finish: classic, dark brown, medium brown, gray, white, black
Matte Finish Only: desert sand, brown sand, black sand
Example species
Osprey, Whooping Crane, Red-tailed Hawk
* Harnessing loops and neoprene pad not included in these dimensions.
** Customer must supply leg band at least 4 weeks prior to scheduled delivery. Be advised that the combined weight of the PTT and leg band will exceed 25 grams.
Our smallest GSM model, the GPS/GSM 20-70 25g Transmitter is lightweight and adaptable. It is comparable in size to our Solar Argos/GPS 22g PTT.