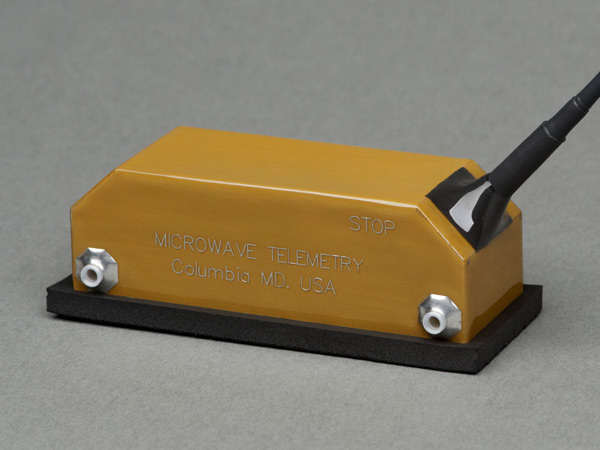 Features
Dimensions**
Length: 3.70 in (9.40 cm) x Width: 1.30 in (3.30 cm) x Height: 1.19 in (3.02 cm)
Antenna: 7.00 in (17.78 cm) protruding from the back edge of the transmitter 45 degrees to the bottom face
Sensors
Temperature, battery voltage, activity

Construction
The housing is constructed from a lightweight glass-reinforced epoxy composite material with a contiguous interior metal-plated coating. The unit is hermetically sealed with a metal-to-metal solder joint providing stability during changes in temperature and humidity.
Attachment options
Backpack via harnessing tubes (with standard neoprene cushioning pad)

Color options
Standard or Matte Finish: classic, dark brown, medium brown, gray, white, black
Example species
Bald Eagle, Harpy Eagle, Golden Eagle
* Estimated transmission lifetime based on a 8 hours ON / 48 hours OFF duty cycle.
** Neoprene pad not included in these dimensions.
Based on the PTT that began it all. It was a 95g PTT-100 that our founder, Paul Howey, used to prove that the Argos system could track migrating birds via satellite with low-powered transmitters. The design of the 95g PTT has served as the cornerstone for the many advancements we have developed since that time, yet this model continues to prove valuable for studying species in habitats with limited lighting. The 95g PTT has been updated many times over the years to incorporate our latest technology.