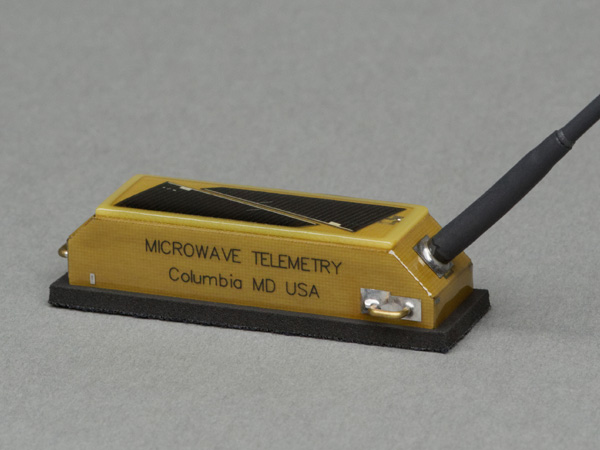 Features
Dimensions*
Length: 2.45 in (6.22 cm) x Width: 0.70 in (1.78 cm) x Height: 0.53 in (1.35 cm)
Antenna: 7.00 in (17.78 cm) protruding from the back edge of the transmitter 45 degrees to the bottom face

Sensors
Temperature, battery voltage, activity

Construction
The housing is constructed from a lightweight glass-reinforced epoxy composite material with a contiguous interior metal-plated coating. The unit is hermetically sealed with a metal-to-metal solder joint providing stability during changes in temperature and humidity.

Attachment options
Backpack (with standard neoprene cushioning pad), leg band**

Color options
Standard or Matte Finish: classic, dark brown, medium brown, gray, white, black

Example species
Little Bustard, Purple Heron, Long-billed Curlew, Mallard, Albatrosses, Cory's Shearwater
* Harnessing loops and neoprene pad not included in these dimensions.
** Customer must supply leg band at least 4 weeks prior to scheduled delivery. Be advised that the combined weight of the PTT and leg band will exceed 18 grams.
In 2001, we introduced the Solar 18g PTT, a sleek and sturdy transmitter weighing about half as much as its predecessor, the Solar 35g PTT. The 18g PTT is constructed with larger solar cells and a larger battery than our smaller models for fast charging and longer transmission capabilities on a single battery charge. This model is also our only Solar (Doppler only) PTT available for leg band attachment.