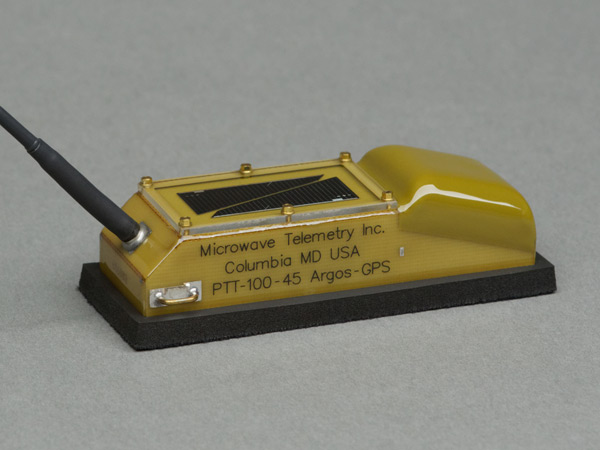 Features
Solar-powered, rechargeable battery
Microprocessor-controlled power management
Internal multi-channel micro-power GPS receiver
SBAS capable (WAAS, EGNOS, and QZSS)
GPS horizontal accuracy ±18 m

GPS vertical accuracy ±22 m
Programmable with up to 5 duty cycle seasons
Embedded CRC checksum with bit error detection
Optional 2D Firmware
Optional Seasonal GT™ and Mortality GT™
Operating lifetime up to 3 years

Dimensions*
Length: 3.30 in (8.38 cm) x Width: 1.15 in (2.92 cm) x Height: 0.80 in (2.03 cm)
Antenna: 7.00 in (17.78 cm) protruding from the back edge of the transmitter 45 degrees to the bottom face

Sensors
GPS coordinates (latitude, longitude, altitude, course, and speed), temperature, battery voltage, activity

Construction
The housing is constructed from a lightweight glass-reinforced epoxy composite material with a contiguous interior metal-plated coating. The unit is hermetically sealed with a metal-to-metal solder joint providing stability during changes in temperature and humidity. The solar array is encapsulated in silicone and covered with a polycarbonate window for added durability.
Attachment options
Backpack (with standard neoprene cushioning pad)
Color options
Standard Finish: classic, dark brown, medium brown, gray, white, black
Matte Finish:** brown sand, black sand
Example species
Bonelli's Eagle, Osprey, Wood Stork, Bar-headed Goose, Golden Eagle, Black Stork

* Harnessing loops and neoprene pad not included in these dimensions.
** Matte finish does not apply to the polycarbonate window covering the solar array.

The robust design of the Solar Argos/GPS 45g PTT distinguishes this model, making it light enough for many medium-sized species yet durable in harsh environments. The 45g PTT uses the same battery as our larger Solar Argos/GPS PTTs, allowing longer transmission capabilities on a single battery charge.