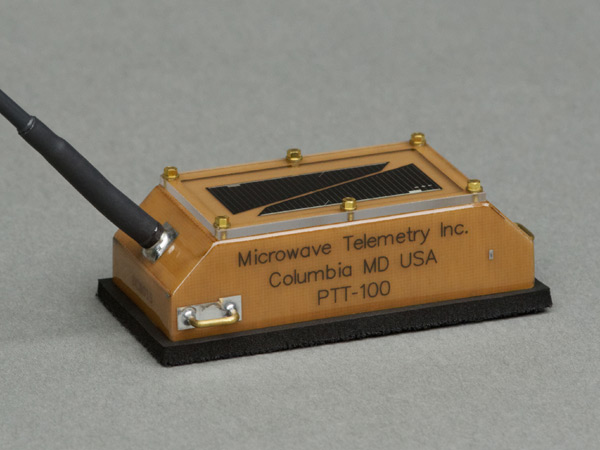 Features
Dimensions*
Length: 2.44 in (6.20 cm) x Width: 1.14 in (2.90 cm) x Height: 0.69 in (1.75 cm)
Antenna: 7.00 in (17.78 cm) protruding from the back edge of the transmitter 45 degrees to the bottom face

Sensors
Temperature, battery voltage, activity

Construction
The housing is constructed from a lightweight glass-reinforced epoxy composite material with a contiguous interior metal-plated coating. The unit is hermetically sealed with a metal-to-metal solder joint providing stability during changes in temperature and humidity. The solar array is encapsulated in silicone and covered with a polycarbonate window for added durability.

Attachment options
Backpack (with standard neoprene cushioning pad)
Color options
Standard Finish: classic, dark brown, medium brown, gray, white, black
Matte Finish:** desert sand, brown sand, black sand
Example species
Osprey, White Stork, Glaucous Gull, Albatrosses
* Harnessing loops and neoprene pad not included in these dimensions.
** Matte finish does not apply to the polycarbonate window covering the solar array.

As one of our larger PTT models, the Solar 35g PTT is constructed with a sturdy polycarbonate window over the solar array for added durability. Although this model generally has an operating lifetime of up to 3 years, historically, some 35g PTTs have endured for over 8 years! Read more about these amazing long-term tracks.