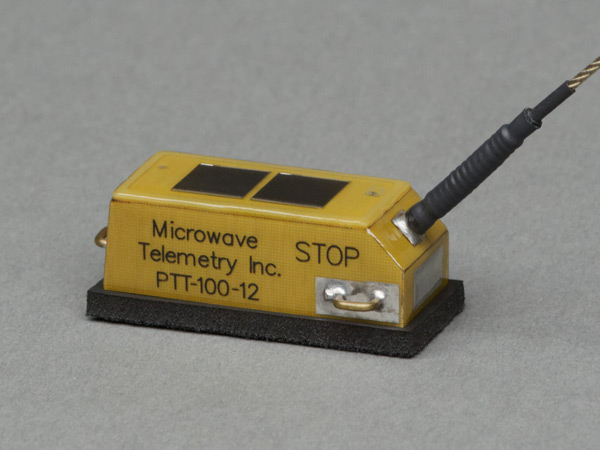 Features
Solar-powered, rechargeable battery
Microprocessor-controlled power management
Programmable duty cycle
Multi-season duty cycle timer available
Optional XT™ programming
Optional Mortality GT™
Optional potting for pressure resistance*
Operating lifetime up to 3 years
Dimensions**
Length: 1.68 in (4.27 cm) x Width: 0.70 in (1.78 cm) x Height: 0.56 in (1.42 cm)
Antenna: 8.50 in (21.59 cm) protruding from the back edge of the transmitter 45 degrees to the bottom face

Sensors
Temperature, battery voltage, activity

Construction
The housing is constructed from a lightweight glass-reinforced epoxy composite material with a contiguous interior metal-plated coating. The unit is hermetically sealed with a metal-to-metal solder joint providing stability during changes in temperature and humidity.

Attachment options
Backpack (with standard neoprene cushioning pad), suture tubes*, glue-on, collar***

Color options
Standard or Matte Finish: classic, dark brown, medium brown, gray, white, black

Example species
Hawaiian Petrel, Teals, Montagu's Harrier, Pink-footed Shearwater
* This option will increase the weight of the transmitter.
** Harnessing loops and neoprene pad not included in these dimensions.
*** Intended for use on some bat species.
Advances in solar cell technology and power management made it possible for us to introduce the Solar 12g PTT in December of 2004. While similar to the 9.5g PTT, this model's larger battery allows it to transmit for longer periods when fully charged. The 12g PTT can also be adapted for tracking flying foxes. Please contact us for details.