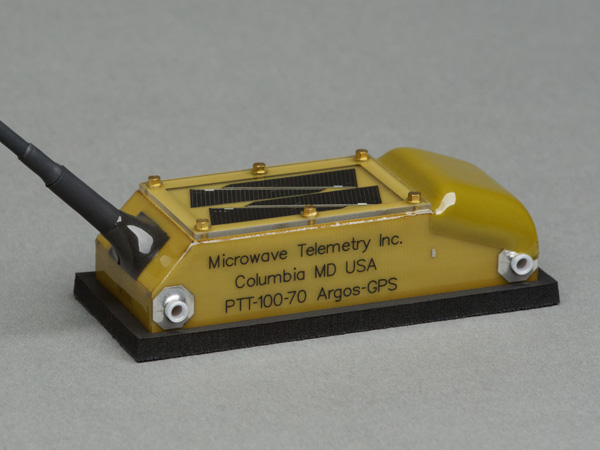 Features
Solar-powered, rechargeable battery
Microprocessor-controlled power management
Internal multi-channel micro-power GPS receiver
SBAS capable (WAAS, EGNOS, and QZSS)
GPS horizontal accuracy ±18 m

GPS vertical accuracy ±22 m
Programmable with up to 5 duty cycle seasons
Dual solar arrays for faster charging
Embedded CRC checksum with bit error detection
Optional 2D Firmware
Optional Seasonal GT™ and Mortality GT™
Additional battery options
Reinforced antenna base
Operating lifetime up to 3 years

Dimensions*
Length: 3.82 in (9.70 cm) x Width: 1.51 in (3.84 cm) x Height: 0.98 in (2.49 cm)
Antenna: 7.00 in (17.78 cm) protruding from the back edge of the transmitter 45 degrees to the bottom face

Sensors
GPS coordinates (latitude, longitude, altitude, course, and speed), temperature, battery voltage, activity

Construction
The housing is constructed from a lightweight glass-reinforced epoxy composite material with a contiguous interior metal-plated coating. The unit is hermetically sealed with a metal-to-metal solder joint providing stability during changes in temperature and humidity. The solar array is encapsulated in silicone and covered with a polycarbonate window for added durability.
Attachment options
Backpack (with standard neoprene cushioning pad)
Color options
Standard Finish: classic, dark brown, medium brown, gray, white, black
Matte Finish:** brown sand, black sand
Example species
Bald Eagle, White-backed Vulture, Wedge-tailed Eagle, Greater White-fronted Goose, Golden Eagle, Bearded Vulture
* Neoprene pad not included in these dimensions.
** Matte finish does not apply to the polycarbonate window covering the solar array.
In 2001, we achieved the difficult task of effectively combining a low-power Argos transmitter with a small GPS receiver to create the Solar Argos/GPS 70g PTT. We included a polycarbonate array window, harnessing tubes, and a reinforced antenna base for greater durability, and have continued to update the 70g PTT with our latest technology, including an improved GPS receiver, more powerful battery, and dual solar arrays for swift battery charging.
We have also developed additional battery options for the 70g to serve two purposes: the "auxiliary battery assist" option allows the PTT to continue collecting and transmitting data when light levels are too low for it to recharge adequately (e.g., in the winter months at high latitudes), and the "GT backup battery" option extends the life of our GT™ feature to allow researchers more time to locate a downed PTT.