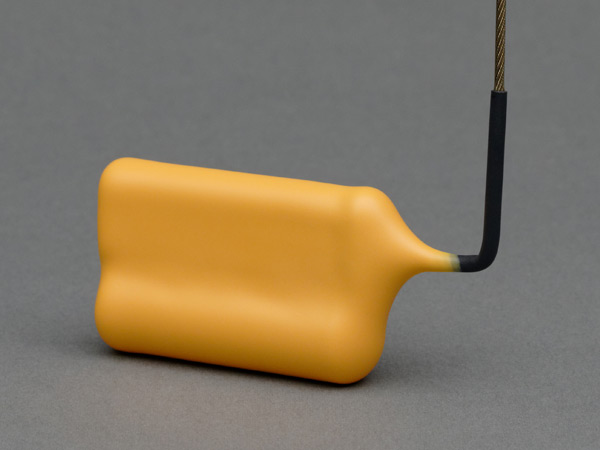 Features
750 hours transmission lifetime*
Programmable with up to 5 duty cycle seasons
Optional potting for pressure resistance**
Optional double-battery configuration**
Optional alternative antenna configuration

Dimensions***
Length: 3.10 in (7.87 cm) x Width: 0.65 in (1.65 cm) x Height: 1.35 in (3.43 cm)
Antenna: 8.50 in (21.59 cm) protruding from the end of the transmitter and bent 90°
Sensors
Temperature, battery voltage, activity
Construction
Electronics are hermetically sealed in a biologically inert material; the outer construction is coated for smoothness and stability.
Example species
Spectacled Eider, Long-tailed Duck, Lesser Scaup, Surf Scoter, Canvasback, Harlequin Duck, Common Loon

* Estimated transmission lifetime based on a 6 hours ON / 72 hours OFF duty cycle.
** This option will increase the weight of the transmitter.
*** Dimensions may vary slightly due to the individually crafted nature of these devices.
We were approached by researchers from Alaska in the early 1990s to develop an implantable PTT to track aquatic diving ducks, as these birds may not readily tolerate backpack-attachment style transmitters. In 1993, our first Implantable 38g PTTs were deployed by Dr. Margaret Petersen of the Alaska Science Center to track the migration and find the wintering location of the Spectacled Eider.
The Implantable 38g PTT is available with a double-battery configuration option for extended operating lifetime, and an alternative antenna configuration. Please contact us for details.