Solar Argos/GPS 50g Patagial PTT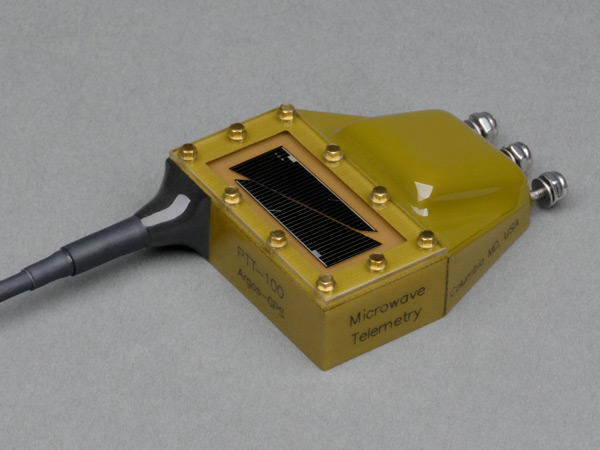 Features
Solar-powered, rechargeable battery
Microprocessor-controlled power management
Internal multi-channel micro-power GPS receiver
SBAS capable (WAAS, EGNOS, and QZSS)
GPS horizontal accuracy ±18 m

GPS vertical accuracy ±22 m
Programmable with up to 5 duty cycle seasons
Embedded CRC checksum with bit error detection
Optional 2D Firmware
Optional Seasonal GT™ and Mortality GT™
Reinforced antenna base
Operating lifetime up to 3 years
Dimensions*
Length: 2.32 in (5.89 cm) x Width: 2.15 in (5.46 cm) x Height: 0.82 in (2.08 cm)
Antenna: 7.00 in (17.78 cm) protruding from the back edge of the transmitter

Sensors
GPS coordinates (latitude, longitude, altitude, course, and speed), temperature, battery voltage, activity

Construction
The housing is constructed from a lightweight glass-reinforced epoxy composite material with a contiguous interior metal-plated coating. The unit is hermetically sealed with a metal-to-metal solder joint providing stability during changes in temperature and humidity. The solar array is encapsulated in silicone and covered with a polycarbonate window for added durability. Additional hardware is included for patagial attachment.
Attachment options
Patagial

Color options
Standard Finish: classic, dark brown, medium brown, gray, white, black

Example species
California Condor, Andean Condor

* Mounting posts not included in these dimensions.
Shortly after the release of the Solar Argos/GPS 45g PTT in 2003, we were approached by the Peregrine Fund with a special request to modify the 45g PTT for patagial attachment to a California Condor. The Peregrine Fund was interested in monitoring reintroduced California Condors and needed an alternative to backpack-attachment-style PTTs.
We had already modified our Solar 35g PTT for condors, so it did not take us long to configure the necessary adjustments to allow for the GPS PTT's attachment to a condor's wing. The resulting Solar Argos/GPS 50g Patagial PTT provided biologists the means to follow this vulnerable species and identify its location so accurately that they could find carcasses the birds had been feeding on.

We recently visited our colleagues at Pinnacles National Park who shared with us the ongoing success of the California Condor Recovery Program. Today, many California Condors that are reintroduced into the wild continue to be monitored with a Solar Argos/GPS 50g Patagial PTT on one wing and a VHF transmitter on the other. Read more about our experience at Pinnacles National Park in our 2018 Spring Newsletter.