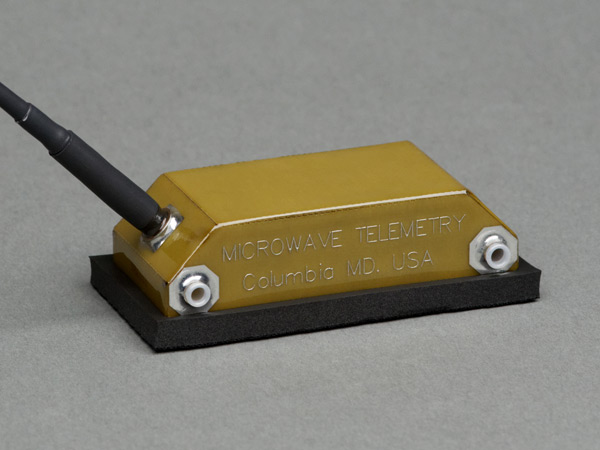 Features
Dimensions**
Length: 2.85 in (7.24 cm) x Width: 1.30 in (3.30 cm) x Height: 0.68 in (1.73 cm)
Antenna: 7.00 in (17.78 cm) protruding from the back edge of the transmitter 45 degrees to the bottom face
Sensors
Temperature, battery voltage, activity

Construction
The housing is constructed from a lightweight glass-reinforced epoxy composite material with a contiguous interior metal-plated coating. The unit is hermetically sealed with a metal-to-metal solder joint providing stability during changes in temperature and humidity.
Attachment options
Backpack via harnessing tubes (with standard neoprene cushioning pad)

Color options
Standard or Matte Finish: classic, dark brown, medium brown, gray, white, black
Example species
Southern Giant Petrel, Bonelli's Eagle, Northern Gannet

* Estimated transmission lifetime based on a 8 hours ON / 48 hours OFF duty cycle.
** Neoprene pad not included in these dimensions.
The Battery Powered 45g PTT is our lightest battery-powered backpack-style PTT. It is designed with a low-height, sleek housing. This model is useful for species weighing >1.5 kg, especially those that preen feathers over backpack attachments or that occupy habitats or latitudes with limited sunshine.