Battery Powered Argos/GPS 105g LC4™ PTT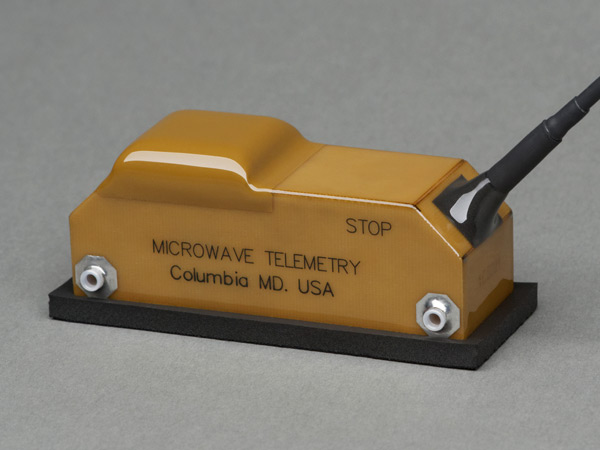 Features
Internal multi-channel micro-power GPS receiver
SBAS capable (WAAS, EGNOS, and QZSS)
2D Firmware with GPS horizontal accuracy ±18 m
Embedded CRC checksum with bit error detection
Optional Mortality GT™
Reinforced antenna base
Operating lifetime up to 3 years (with 1 GPS fix per day and transmissions to Argos every 10 days)
Dimensions*
Length: 3.70 in (9.40 cm) x Width: 1.30 in (3.30 cm) x Height: 1.44 in (3.66 cm)
Antenna: 7.00 in (17.78 cm) protruding from the back edge of the transmitter 45 degrees to the bottom face
Sensors
GPS (latitude and longitude), temperature, battery voltage, and activity
Construction
The housing is constructed from a lightweight glass-reinforced epoxy composite material with a contiguous interior metal-plated coating. The unit is hermetically sealed with a metal-to-metal solder joint providing stability during changes in temperature and humidity.
Attachment options
Backpack via harnessing tubes (with standard neoprene cushioning pad)

Color options
Standard or Matte Finish: classic, dark brown, medium brown, gray, white, black
Example species
White-tailed Eagle, Whooper Swan, Great Bustard, Harpy Eagle

* Neoprene pad not included in these dimensions.
The release of our Solar Argos/GPS PTTs in 2001 was met with great success, but some species of birds preen feathers over a backpack attachment, or live in areas without adequate sunshine to rely on solar power. Therefore, we introduced this battery-powered, GPS-equipped PTT with location data accurate to ±18 m, more precise than the highest Argos location class.
The 105g LC4™ PTT has sufficient battery power to operate for up to 3 years on a standard duty cycle of 1 GPS fix per day and transmission to Argos every 10 days. The 10 locations are compressed into just 2 Argos messages, each containing data from alternating days since the previous transmission. This duty cycle can be customized, but please note that more frequent data collections and/or transmissions will shorten the operational life of the PTT.
Our unique SiV™ technology aligns the timing of transmissions to Argos with times when a satellite is most likely passing overhead. This helps conserve battery power and increases the likelihood of satellite reception of the transmitted messages.