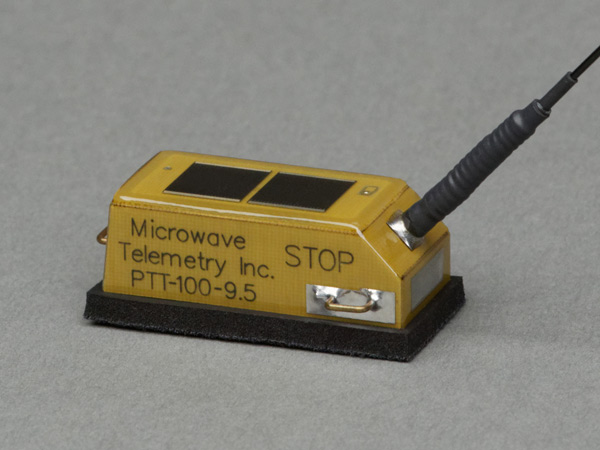 Features
Solar-powered, rechargeable battery
Microprocessor-controlled power management
Programmable duty cycle
Multi-season duty cycle timer available
Optional XT™ programming
Optional Mortality GT™
Optional potting for pressure resistance*
Operating lifetime up to 3 years
Dimensions**
Length: 1.53 in (3.89 cm) x Width: 0.70 in (1.78 cm) x Height: 0.51 in (1.30 cm)
Antenna: 8.50 in (21.59 cm) protruding from the back edge of the transmitter 45 degrees to the bottom face; hard nylon coated flexible stranded marine grade stainless steel

Sensors
Temperature, battery voltage, activity

Construction
The housing is constructed from a lightweight glass-reinforced epoxy composite material with a contiguous interior metal-plated coating. The unit is hermetically sealed with a metal-to-metal solder joint providing stability during changes in temperature and humidity.

Attachment options
Backpack (with standard neoprene cushioning pad), suture tubes*, glue-on, collar***

Color options
Standard or Matte Finish: classic, dark brown, medium brown, gray, white, black
Examples species
Hen Harriers, Marbled Godwit, Montagu's Harrier, Skuas, Woodcocks
* This option will increase the weight of the transmitter.
** Harnessing loops and neoprene pad not included in these dimensions.
*** Intended for use on some bat species.
The Solar 9.5g PTT is one of our fastest charging models, and our smallest PTT to be constructed with a rugged, fiberglass housing. It is also our most adaptable transmitter model, with modification options for studies on diving birds, sea turtles, and flying foxes. Please contact us for details.